A builder of dreams and a transformational leader, Mr. Antonio "Tony" Meloto graced the institution with the honor of his presence and delivered his inspiring message at the 18th Tertiary Schools Commencement Exercises held last 04 June 2022.
I congratulate you young college graduates of this prestigious Christian institution and your mentors who patiently instilled in you the right values in addition to academic excellence. Ito ang katuparan ng inyong pangarap at pagsisikap na magkaroon ng College Degree na magiging susi ninyo sa isang maunlad at marangal na kinabukasan.
May I ask you graduates to give a standing ovation to your parents and family? Without their sacrifice, we would not be here to experience this moment of overflowing grace and happiness.
Now may I also ask you a serious question?
Why did you choose a white-haired 72 year old man to be your graduation speaker today?
I remember clearly when Ateneo de Manila University and the University of the Philippines invited me to talk to their graduates in 2006, I was at the prime of my life at 56 years old and the nation-building movement I founded, Gawad Kalinga, was at the height of its popularity that inspired millions of volunteers to build homes for the homeless and give food to the hungry. My bigger than life image was in every Shell station throughout the country and more than a thousand LGUs built colorful and peaceful GK villages in their town.
The graduates then were excited to hear my message of hope and the great adventure of nation-building.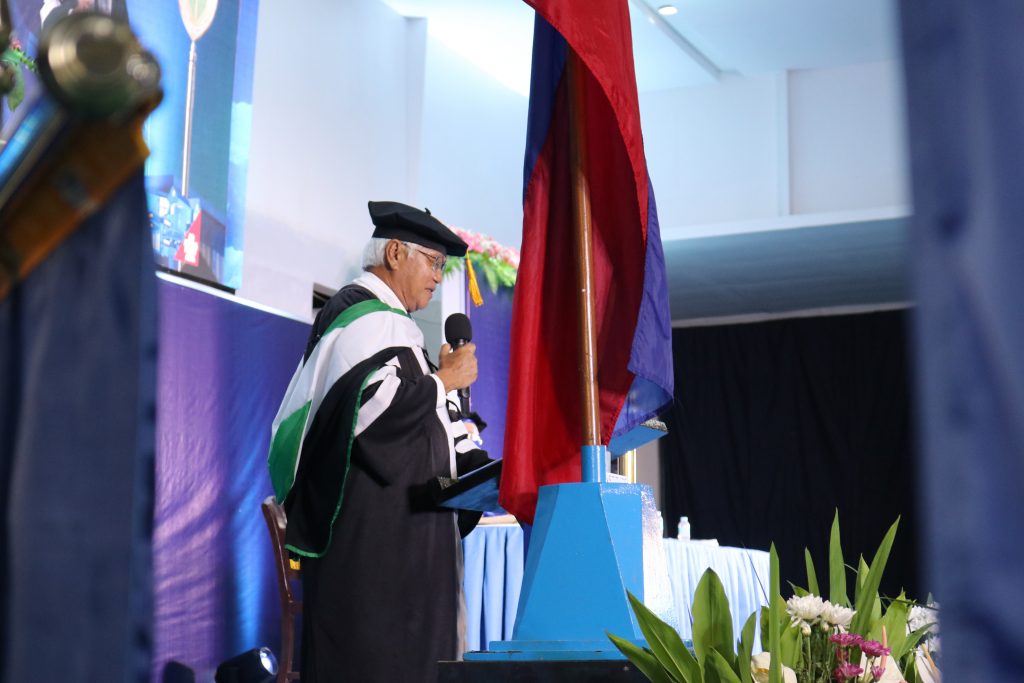 But today how relevant am I to young people who are disciples of social media influencers and fantasy peddlers?
Maybe I am here because you need the hindsight of stubborn old Filipinos who will not allow their dreams for our country to die.
A valued friend and your Chairman of FAITH Colleges, Bong Belen, who is my age, believes like me that we are not too old to dream for our country.
We never stop dreaming because we never stop loving our country.
We are poor as a nation because many Filipinos do not know how to love our country and care for our people.
Honestly, how many of you consciously love our country?
How many of you want to make our country prosper?
It is ironic that we are poor because the Philippines has no excuse to be poor.
Let us not use corrupt politicians as a scapegoat. We voted for them. We believed their lies and we accepted their money when we sold our votes. We used poverty as an excuse to sell our soul.
Our only chance to prosper is to liberate ourselves from a poverty mentality and be part of the solution. If we just complain and not do anything, then we become part of the problem.
Look at the priceless gift that God gave us that we do not treasure.
We are blessed with rich natural resources and beautiful, intelligent and talented people, like you.
Look at once poor countries around us.
Vietnam sent their students to study agriculture and rice production in UP Los Baños and Central Luzon University. Now we import our rice from them.
We taught business to South Koreans and Singaporeans at AIM, UP, Ateneo and La Salle— now Singapore Singtel owns Globe Telecom and we buy Samsung, Hyundai and LG from South Korea.
They are rich and we are poor.
They are rich because they anchored their prosperity on their love of country. Koreans and Singaporeans left the alluring greener pastures of foreign lands to come home and make their country prosper. Filipinos left our homeland to make other countries prosper.
But this is the sad reality that your generation can change.
If they can make their country rich, so can you.
Young graduates, it is not your fault that our country is poor. Our generation plundered this nation, corrupted our institutions and squandered your future.
Many among your parents have to endure separation from loved ones as OFWs to give you your college education.
Many Filipinos left our country in tears to reside abroad because they could not see a future for their children in the Philippines with our corrupted culture and institutions.
You are young and we are old. You have the time and opportunity to change things that are wrong that we can't.
You have boundless dreams, we have nostalgic memories of personal achievements but also a lot of regrets of what the Philippines could have been if we did not allow our dreams for our country to die.
But some of us are not too old to keep our dreams alive.
Dreams give us purpose, purpose gives us the passion and the energy to welcome every new day with joy. Passion to do good brings with it immeasurable pleasure and enduring peace.
So start your journey to happiness and success now anchored on love of God, country and family.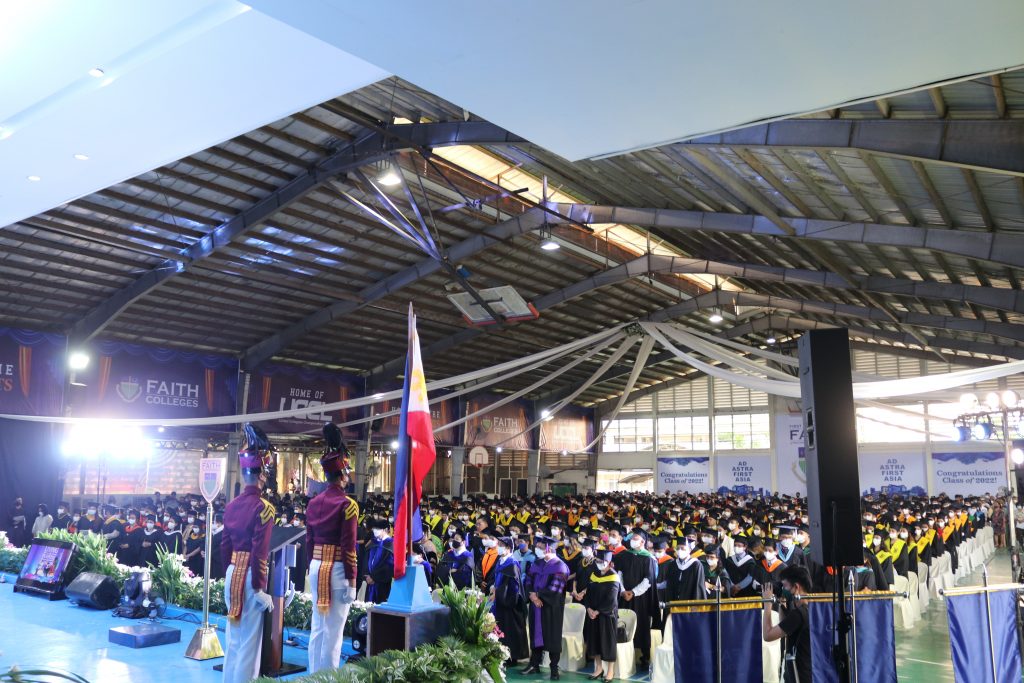 But first, begin to love yourself.
You are a beautiful creation of God blessed with a college degree that most Filipinos your age do not have.
Always remember:
That God did not make a mistake when he made you a Filipino
The Philippines is your home;
The Philippines is your land of opportunity;
As you prosper, you can help your country prosper.
This is the best time to be Filipino.
It is in the worst of times that we can show our love for our country and make a big difference for the common good.
Many politicians of Korea were corrupt but their citizens were patriotic and proud so they worked hard to prosper until corruption had little power over them.
You already have a big head start with the quality Christian education that you received from FAITH Colleges.
Make it your graduation vow to be the best engineers and technologists, educators, entrepreneurs and health practitioners in the Philippines. For those of you who chose a career in Criminology, make our streets peaceful so investors will feel safe in our country. If you must do graduate study or work abroad, please do not forget that the Philippines is your home and your country to rebuild and restore.
Start to build your big dream with small steps when you go home tonight. Set a high standard of excellence in the small things that you can do that will define your character.
Clean up your toilet and your room. Highly successful people have a high
standard of cleanliness. Be clean, starting at home. Many foreigners often
wonder why Filipinos have the most beautiful beaches and wear fancy branded
clothes but do not have clean public toilets.
Fix your leaking roof, landscape your garden and repair whatever is broken
in your home. Success in the bigger world outside will be more difficult if
your house is not in good order.
Tell your parents and your siblings that you love them and that they are the
principal reason why you want to succeed in life. No success outside can
justify failure to love at home.
Stop lying to your family and friends so that integrity becomes the hallmark of your success.
After you leave this hall, your journey through life as an adult with the freedom of choice to chart your destiny will start.
Dream big for yourself and for our country.
Have the courage to fight for your dream.
Do not allow your dream to die.
Dream for those who have lost their capacity to dream.
Pass on your noble dreams for God, country and the poor to your children.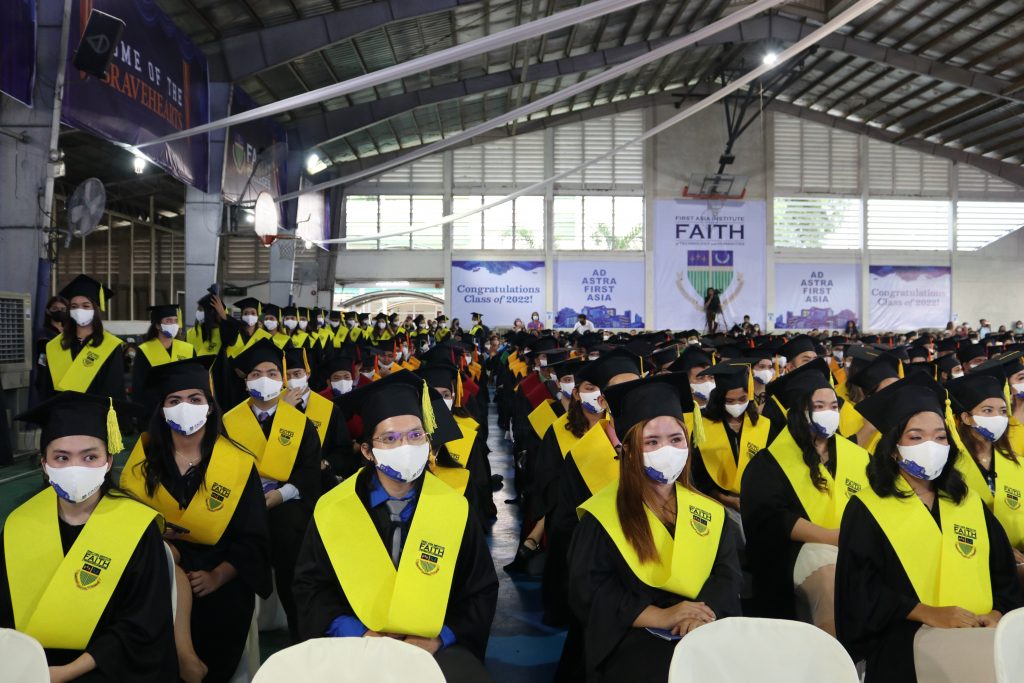 Let me tell you a story of a dream-builder from Batangas I deeply admire. He was born a poor boy in Barangay Burol of Sta Teresita who walked to school in slippers, got a college degree in Biochemistry in Manila against all odds due to a lack of finances, eventually built a huge business company in agri-chemicals, now lives comfortably in Ayala Alabang after passing on his dream and the management of his business to his children. He goes home to his barangay regularly and donates generously to improve the lives of the people there. The big activity center, the huge Chapel of St Therese of Lisieux and the ambulance in his barangay are a visible testament of greatness of a Filipino who reached the stars but did not leave the poor behind. He is my friend Ric Casabuena who was supposed to be here with me today together with fellow dream-builders from several towns of Batangas but begged off due to flu.
Graduates, you can be like them—mga Filipino na Buhay ang Pangarap para sa Bayan natin.
And we never stop dreaming and working hard to build our dream.
At 35, I dreamed of a better world for my family so I helped build Couples for Christ all over the Philippines and around the world, including Bacolod where I was born and Batangas, where I chose to retire.
At 43 years old, my dream was a good peer environment for my children who were becoming teenagers—so Youth for Christ and Singles for Christ were born.
In 1996, I started Gawad Kalinga to learn how to transform a community of gang members and drug users in a big slum In Caloocan City to make the world safer for my children. The rest as they say, is history.
Today at 72 years old, I feel a new surge of energy creating Seniors Faith Club to help care for the lonely and often neglected senior citizens, giving them joy in the remaining years of their life.
And like Bong Belen and Ric Casabuena, we have the freedom to continue helping others in need at this stage of our life because we have passed on the greatest legacy to our children—love of country and our less fortunate countrymen as a truly meaningful expression of our love for God.
I'm sure that your young President, Dr. Brian Belen, will fulfill the dream of his father—and his own dream now—to turn FAITH Colleges into a University within 10 years.
On a more personal note, it was my dream that kept me alive.
I started life as a poor boy in Bacolod City, the land of rich sugar barons, without land, home or car to call my own. I walked to the public schools I attended in hand-me-down clothes without sufficient money for food. I had the added burden of being blind in my left eye and being taunted as cross-eyed. In our country, people call you duling when you are poor, banlag when you are rich. Social inequality was deeply ingrained in me early in life.
Poverty and my handicap gave me the added burden of a lot of insecurities and fear.
It was my dream of a better life for myself and my family that gave me the courage to study hard and not to give up.
Every day, I fought my Goliaths with faith like David. My slingshot was a brave heart that brought me to California at 16 years old as an American Field Service scholar, to Ateneo de Manila University for college on a full scholarship and a job as the youngest manager of Procter and Gamble at 21 years old.
In the US, I studied hard to get straight A's to prove to myself that I was as good as any American.
In Ateneo, I excelled to prove that a poor boy like me from the province was not inferior to the rich boys of Manila.
FAITH Colleges gave you your slingshot. Be brave and use it well to hit your mark of success.
Let me end this Commencement Speech with hope and challenge.
Today you made your family proud of you.
Tomorrow, make your country proud of you.
Demand greatness from yourself as a Filipino.
Inspire greatness in other Filipinos.
Never stop loving our country.
Never stop caring for our people.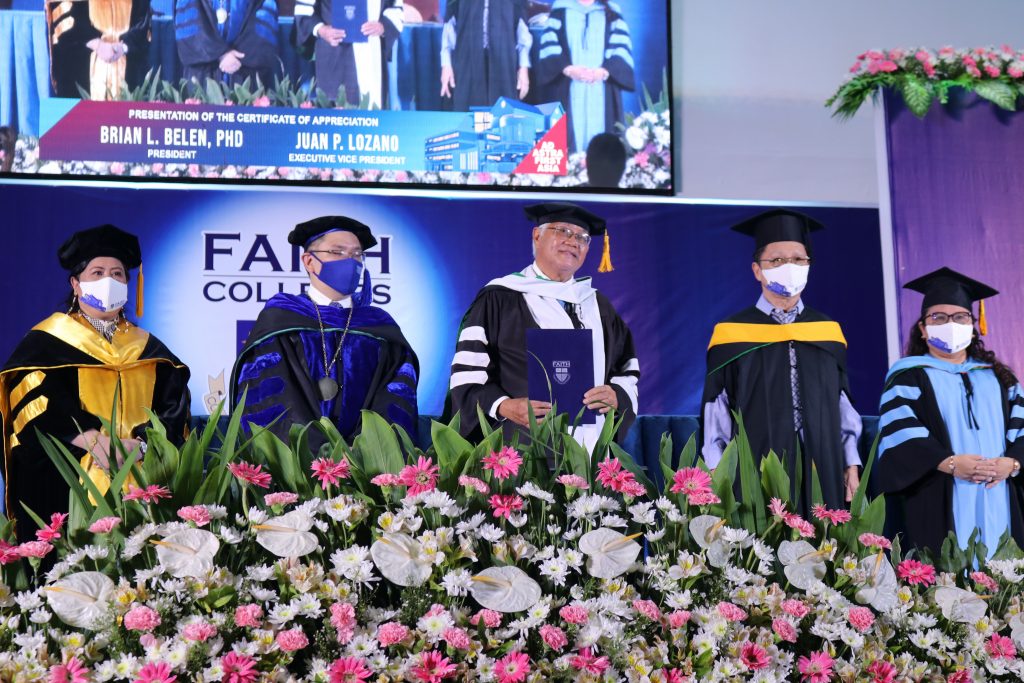 ABOUT THE AUTHOR
Mr. Antonio "Tony" Meloto is the Chairman and Founder of Gawad Kalinga, a movement that has spawned more than 2,000 communities all over the Philippines, and in other developing countries. He is recognized both by the local and international communities for his sustainable humanitarian works. In 2006, he was recognized as one of Asia's prestigious Ramon Magsaysay Awardees under the category of Community Leadership.