Homily of Baccalaureate Mass celebrant Fr. Tito Caluag to the graduating class of 2023
A proclamation of the Holy Gospel according to Matthew.
You are the salt of the earth; but if salt has lost its taste, how can its saltiness be restored? It is no longer good for anything, but is thrown out and trampled under foot. You are the light of the world. A city built on a hill cannot be hid. No one after lighting a lamp puts it under the bushel basket, but on the lampstand, and it gives light to all in the house. In the same way, let your light shine before others, so that they may see your good works and give glory to your Father in heaven. (Matt. 5:13-16)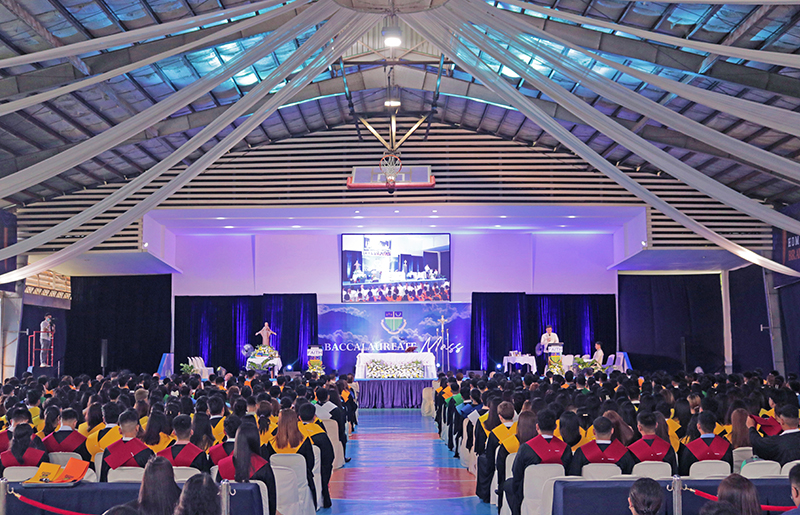 Let me begin by reflecting on the core values of FAITH Colleges—Competence, Compassion, and Commitment. I have been in education since 1980. I believe that education has always been my main apostolate. Around 5 or 6 years ago, I came across the writings of one of the greatest theologians of our church. Fr. Hans Khung said, "If you want to let a person live a fully human life, you must give that person three things: first you must give him something to live on; second, you must give him something to live for; and third, you must give him something to die for." And I think the core values of your school—Competence, Compassion and Commitment—precisely try to develop these three things in your life.
Something to live on—is the Competence that your school has been trying to develop in you so that you may have good jobs; and not just good jobs but a decent career, a good career and I think part of competence is what we also read in today's Gospel: You are the salt of the earth. You are the light of the world. And what is the nature of salt and light? First, it does not call attention to itself. Because the moment salt calls attention to itself, It does not do its function which is to bring out the best in what it is seasoning. The same with light. The light does not call attention to itself. The job of light is to illuminate what is around it to help people see where they are going, to help people be able to travel their path but never calling attention to themselves and I think that is part of Competence; that you are developed. The school tried to bring out the best in you, and all of these towards service to others. That is part of the Competence that we are being asked to develop.
Second is compassion. Competence without compassion is really a very dangerous proposition. We have seen many competent people, great minds but there is no meeting of the mind and the heart which is now compassion. One Jesuit asked: What is compassion or what is Mercy? He said compassion is the ability to enter the world of another person and to be able to help that person make meaning out of his or her world. That is compassion. The ability to enter the lives of other people and I am sure that in your years here in FAITH Colleges you have experienced that compassion among yourselves. I'm sure you have developed friendships in this school, you have developed very deep bonds of friendship with your teachers, with the staff, with your classmates and schoolmates. You might also say that the mission of your faculty is to enter your world and to make new meaning out of this world—forming bright minds, brave hearts.
Now we go to the third and final core value of the school—Commitment.
At the end of the day, what is commitment all about? It is to discover what is in your life; not just the purpose of your life but what is your mission in life. To make this world better for yourselves, for your loved ones, and for the people whose lives you will influence; the people you will serve. That is Commitment. The name of your school is FAITH and what is FAITH in Tagalog? Pananampalataya. That is what Commitment is all about and again, the Gospel reminds you that your Commitment is to serve others and that is for me what synthesizes everything in your life as you graduate from this institution.
Let me end by giving you something that will constantly go back to as you pursue your careers, as you pursue your path. Theologian Frederick Victor said: What is Vocation? What is mission? He said vocation or mission is the meeting point. That is where God wants you to work; to live out your life. I pray that your past year or years here in FAITH helped you discover what is your deep vocation. What is your deepest desire. What is it that make you get up in the morning. What is it that helps you see yourself through the many challenges of the past year. Yours was not an easy period. Of the last four years that you spent in school, three years were under the pandemic and I think that is not an accident. There is a purpose to that and I pray that in the coming years you may discover more deeply the meaning of these years. And to remember ask yourselves now: After four years, what is it that gives me purpose? What is it that gives me meaning? What is it that somehow inspires me to live my life? What is it that inspires me to continue to develop myself to become a Competent person, to become a person of Compassion, and ultimately to become a person of Commitment to be able to respond to the hunger of the world?
I pray that you will remember this day. Always ask yourself: What is the hunger of the world that I must respond to?
I ask the blessed mother Mater Fidelium to always pray for you. To guide you and to place you with yourself and to the Lord I ask that you continue to inspire others. That you may become grateful followers of the Lord. To be able to love, to serve God and others. That in all things, we always seek to love our soul.